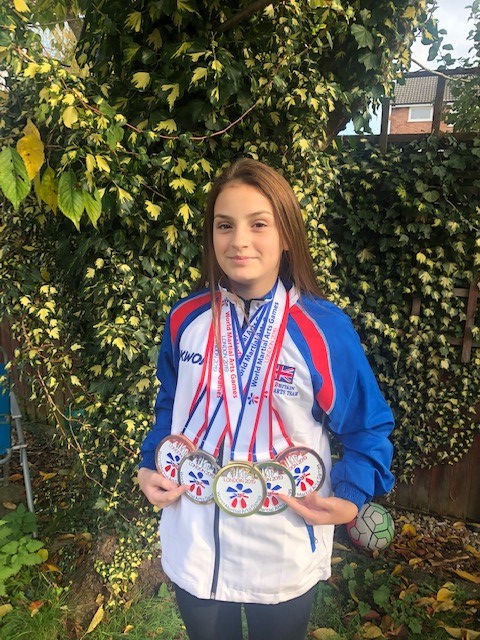 Frankie has previously held world titles representing England in Martial Arts in Tunisia, Malta and Ireland with 15 Gold medals in total over the four World Championships she has previously participated in.
This year, on 24th August, the WMAGC world games were held in London and Frankie was representing Team GB along with some of her team mates from Zara Phythian's Personal Best Academy in Mansfield.
In her Black Belt Girls and Team Categories Frankie came away with a Gold, along with fellow Samworth Church Academy student Jack Doherty. They have performed together at the UK Martial Arts Show for the last three years and they wowed the judges at the World Championships this year with their musical Team Form.
She also got a silver for her synchronised category along with her younger sister Maisie Ulyatt and another two silver and bronze in her other forms categories - Extreme Musical Forms, Japanese and Korean.
Another highlight was that this is the first World Championships that Frankie has also gone into the fighting categories, pushing herself even more and achieving Silver in Black Belt Girls point sparring and Bronze in light continuous. All in all winning 1 gold, 4 silver and 2 bronze!
Mrs Ulyatt said "Without the Opportunity Trust at The Samworth Church Academy, Frankie simply would not have been able to go and the family are forever grateful. I truly believe that she will go from strength to strength with her Martial Arts in Traditional Kata, Musical and Extreme categories (traditional Martial Arts mixed with back flips etc), weapons forms, light continuous fighting, point fighting she is an all-rounder".
There were many countries at the games, the biggest team alongside Team GB was the USA, also teams from Germany, Columbia, Korea to name a few.