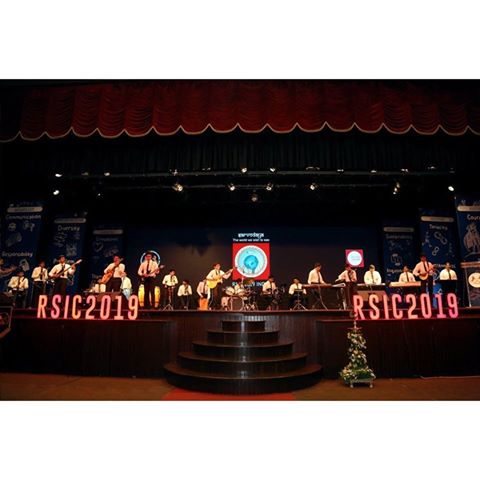 Students and staff from the Academy attended the Round Square International Conference 2019 held at Emerald Heights International during October 2019 where they spent five days attending workshops on the Round Square Ideals, networking and participating in various community service projects.
Students were given a keynote address with a Nobel Peace laureate who explained how he'd led a march against child labour and for that he was awarded the Nobel Peace prize. Students were put into barazza groups which entailed being put into groups with students from other schools from across the world including Australia, South Africa, Canada and India with whom bonds were formed. Contact details were swapped enabling students to keep in touch.
One barazza group went to Mahesh Dristhtiheen Kallyan Sangh which is a school for young blind girls where students helped them make resources such as pen holders and other items that could be sold to the local community to raise funds. Students particularly enjoyed a keynote address from Kiran Ganhi who was a musician and activist for women's rights. Each evening there was a multi-cultural performance in each school performed in front of the rest of the conference. This gave opportunities to meet other students in different barazza groups and talk about their talents. At mealtimes they had the opportunity to network and with other students, enjoying local and international foods. A highlight of the trip was the 'Run for Cancer' in which all students at the conference participated.
Students went sightseeing to Mandu which is the largest fortified city of medieval India and Maheshwar where there is a palace and the local town is famous for its many fabrics and temples. An opportunity was given for time to spend in Jaipur with two other schools that attended the conference. This allowed time for building friendships and spending more time together, enjoying the rich culture of India. Students took part in camel polo, travelled in jeeps up Amber Fort and on the final day, painted and washed elephants.
The experience wasn't all smiles and students learned a lot about themselves along the way, made many friends, and inspired them to be better people, working them towards the world they wished to see which was the title of this year's Round Square Conference.
Written by Molly Williams