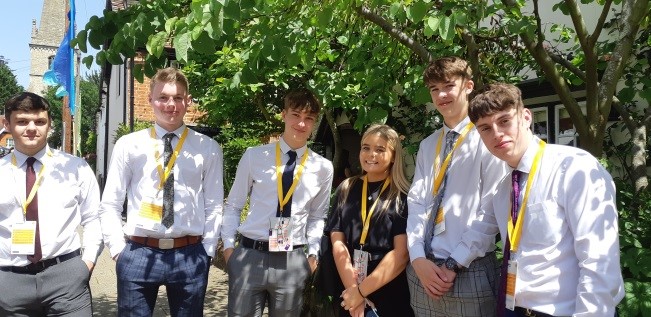 On Friday 28th June 2019, our year 12 A Level Business students travelled to sunny Buckinghamshire for the Annual EntFest, a one day festival bringing together students, young entrepreneurs, business founders, leaders and investors to network, learn and champion enterprise. Our students were inspired by Ted style talks, workshops and fun activities as well as experiencing a taste of student life at the University of Buckingham.
The students also enjoyed visiting the market stalls set up by teams of student entrepreneurs and had the chance to explore the Festival, which included several visits to the food stalls to buy festival food lunch, enjoying a schedule of music and spoken word in the Walled Garden and a visit to the 'you make the future' hub where students could find out about the latest enterprise technologies and receive support with CV building.
The highlight of the day was a live Dragon's Den style event for the finalists of the Peter Jones Foundation's National Entrepreneur of the Year competition. We watched the finalists present to Peter Jones CBE and a panel of business experts with a chance to win £5,000 of investment. Our students were inspired by the creative and passionate pitches.