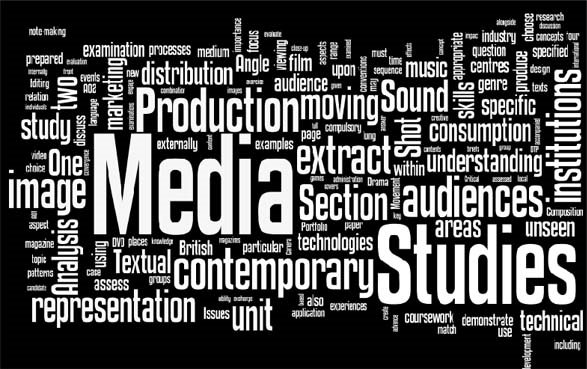 Examination Board: WJEC/Eduqas
Specific requirements
Grade 6 in GCSE in English
What will I study?
'I believe that in the modern world media literacy will become as important a skill as maths or science.' –Tess Jowell, former UK Minister for Culture
'It is about empowering people by providing them with the cultural awareness, the critical knowledge and creative skills which will help them to understand the way in which we view the world.' – Lord Puttnam, advisor to the UK Government
The A Level Media Studies course is a two year programme of study which encompasses a variety of media texts and products, studied both during lesson time and also as part of independent study. Students will be expected to complete the 'wider reading' and research requirements in their own time.
The course mixes academic study with creative skills, and is an excellent choice alongside any other Arts-based subjects.
Some of the topics that will be covered:
Study is based on 4 key concepts: Audiences, Industries, Representation and Media Language.
Products for study will be taken from all 3 Media Platforms: Audio-Visual, Print and Online.
Learn how media products possess social, cultural and historical significance.
A variety of English and non-English speaking media products will be studied.
Explore how media products establish meaning, and how audiences interact with different platforms.
Work with Narrative, Semiotic, Structure and Genre theories.
Analyse how media products represent people, places and ideologies.
Where does it lead?
Students gain and develope skills in:
You will build a variety of skills including:
The ability to think critically.
Making informed judgements about the meaning and content of media products.
A knowledge of key media theories.
An understanding of how products are designed, produced and circulated
Knowing how and why the media is regulated.
An understanding of how companies construct and appeal to specific audiences.
The factors which influence how audiences react to the media.
The different gratifications that audiences get from media products
The role of ownership and control in the media.
The impact of new digital technologies.
Opportunities will be provided during the A Level course for students to build a portfolio of work, which will help to build confidence and also support applications for further study or jobs.
This course could directly lead to a BA in Media Studies, Journalism, Film Studies, Education or towards the study of another Arts-based degree. The practical skills gained during the course could lead to a degree in Media Production or Broadcast Media.
In turn this could lead to Careers in Journalism, Media Production (filming, editing, photography, design), Marketing and Promotion, the Arts, Research, and Education.